So I actually did get some sleep last night. A lot of sleep. The deepest sleep I've had in over a week. Felt so good. So refreshing. It was the best I've felt after opening my eyes in weeks.
Ahhhhhhh.
I was supposed to do an interview for another story last night. The lady I who I have been attempting to contact never called me back. Bugger. I
really
want this story too. It's got all of the good elements of a newspaper piece. Hopefully we'll touch base today or tomorrow and we can get this thing done. I've been on a tear lately with printing out
job possibilities
. The old resume needs to be updated but I feel pretty confident about my stack of clips and being able to handle the whole writing thing full time.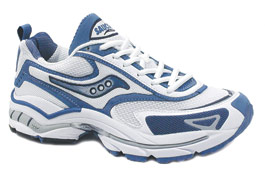 To quote Carrie from Sex and the City, "Hellloo lover!"

Almost forgot this weekend is the big tent sale at one of our local shoe stores. They specialize in athletic shoes and this girl is in some serious need of new running shoes. I already know
what I want
. If I can get a good deal on them too, that would be even better than the
Handel's ice cream
I had yesterday. The no-fat no-sugar double caramel ripple is to die for.
Ice cream rocks. It makes me happy. And happy is what I want to be. Not mad at anyone for any kind of reason. Make amends. I don't want to be one of those bitter girls that sits around and mopes because things aren't going her way. In reality that just isn't me. Oh sure, I have my moments (as witnessed in some of my posts from the beginnging of the week). The key I think is learning to deal with it in a civil way. And deal with it right away.
One more thing to add to the list of improvement. Why does that damn list keep getting longer?