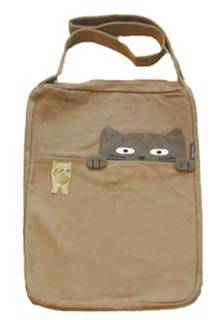 Cat's out and it's not going back in...

Well, now that the cat is out of the bag so to speak, I can talk about my new job. I'm actually not even leaving the company, just kind of transferring. But because of where I'm going to be working I can't stay at job #1. Basically I'm the new obituary/legal clerk at the business office for the newspaper I work for now. It's full time, which I need like nobody's business (my fingers are crossed about the rent check I gave the room mate today), and comes with benefits. Which I need badly for my BC perscription and Iron pills. Sooooo, that's that. My hours are great, Mon-Fri 7:30 a.m. to 2:30 p.m. and some Saturdays 3-8 p.m. which I don't mind because that still gives me my mornings
and
my evenings. Only problem may arise during football season when PSU is on in the afternoon, but we'll cross that bridge when we get to it.
Last night I officially gave my two weeks notice. I'm not sure but I think I may have been the only one that was really upset about it. Lol. I practically burst into tears when I told Lyzz. Sigh. She's going to be the one I'll miss the most. We have that bond, that
only females in the sports department, I feel your pain
kind of bond. Double sigh. Like I said before though, at least I'll still be in the same town. I'm sure we'll still get together for drinks and such.
Very excited for this weekend. Tomorrow night Abbey, Anne and I are going to the O's game where we'll drink beer, eat crabcake sandwiches and hopefully catch a fly ball (seats are very good, just to the right of the foul pole in right field). Oh and it's also floppy hat night. Love floppy hat night. We're also going to get to visit the WSBA broadcast area as guests since Abbey works there. Very cool. Saturday is the 3rd annual Beer Olympics. I don't participate in many of the events but I need to make sure I retain my title in the keg stand. Currently I hold the record at about 1 minute 20 or 30 seconds. Yep, this old girl still has it in her to party like a rock star when the occasion calls for it. I requested off Sunday to recover from Saturday. No sense in putting myself the torture of both jobs if I don't have to.
And lastly, just in case you were wondering what to get me this year, how about
this
?