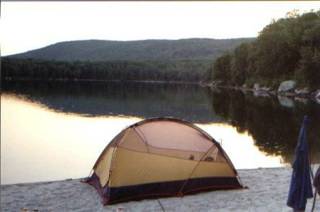 Well stake me down and call me pitched.

This weekend I
finally
get to go along on one of my Lobster co-worker's famous camping trips. Every other time I have either had to work, or, well, work. This time though, oh no, I'm going. We're heading out to the campsite late in the afternoon Sunday and will return Monday. From the stories I've heard before there is quite a bit of drinking and debauchery that goes on during these outings. Hmmmm, may just be what the doctor ordered. One of my friends is taking along a tent although most people don't, prefering to sleep under the stars. If they sleep at all. She told me I could share it with her and another girl. Sweet.
Saturday by some stroke of luck I have off. No Lobster shifts, lunch or dinner. I've been thinking about taking off for Baltimore that night. Treating myself to dinner somewhere down there. Maybe hitting a bar in Fells Point. Somtimes I like to do that, just go out on my own. Sure, it would be nice to have someone with me and anyone who wants to join me is more than welcome to but there are times when I just really want to get out there and do something on my own.
God I am way too independent for my own good.
*YAWN* I need to get some sleep. We were not that busy at work tonight so I was sent home early. Instead of coming home and getting things ready for the yard sale on Saturday I got sucked into
Down With Love
on The Movie Channel. Such a cute movie. But seriously, Renee Zellweger does not make a good redhead.