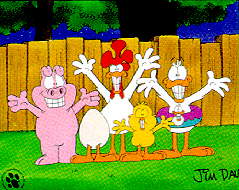 Time to say so long.


This morning I woke up crying at 4:30 a.m. Part of it was the dream I was having. The dream about the tall dark haired guy has been coming back with more frequency lately. Only now I have seen his face. And I wish I hadn't. It's a face I'll miss.

Part of it was caused by the final sinking in that today is my last day at job #1. I really am going to miss that place. There are so many memories tied to it. So many people I have been privileged to know and become friends with. At my going away lunch today I was alternating between outright bawling my eyes out and laughing. That's how I feel about leaving that place. One side of me is so sad I can barely stand it, the other, well, the other can't help but laugh at all of the good times.

Six years come and gone like that. Funny how time flies when you aren't looking. Sigh. I've decided to go out in style though. For probably the first time in a long time I'm going to make myself look presentable. Heck, I'm even going to wear a dress. Lol. Everyone will probably go into shock. Then go on with their lives.

New beginnings are so scarey. And exciting. And sad. And part of life. One of the best lessons I've learned in life is we can't move on without a little pain in the process.
Oh, and wear your tiara when you're sad. It makes you feel like a princess and that just maybe, fairy tale endings do happen.